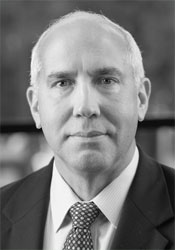 Len LaPorta
Senior Managing Director
Len LaPorta is a Senior Managing Director of FODIS. He has over thirty-five (35) years of deep experience on matters relating to developing and executing internal and external growth strategies for both large, family-controlled businesses and public companies in a variety of industries. Since 2010, he has served over a dozen US and European clients on cross-border acquisition, divestiture, and direct investment advisory and implementation assignments.
Mr. LaPorta typically leads client engagements in diversified manufacturing and industrial products sectors including capital equipment & accessories, ultra-sonic welding equipment, lapping & polishing equipment, precision contract manufacturing & fabrication, forging, aluminum extrusion, process equipment, robotics, powdered metal, composite materials, non-woven fabrics, air & water filtration, agricultural harvesting equipment, and the HVAC industry. Since 2017, he has placed considerable focus on the HVAC sector. Mr. LaPorta has released four HVAC sector reports including an overview of the industry and in-depth analyses of sub-sectors including cold chain, air filtration, and service & repair.
Prior to joining FODIS in 2019, he worked with FODIS's previous investment banking affiliate, Capstone Headwaters, based in their Greenwich, Connecticut office.
At the end of Q1 2020, Mr. LaPorta's most recent sell-side cross-border M&A transaction closed after a 12-month process. The deal involved Swiss Exchange listed SFS Group AG (€2 billion turnover) AG acquiring Connecticut-based precision contract manufacturer, Truelove & Maclean, a globally recognized leader in the supply of complex, mission critical Deep Drawn and Progressive Die Stampings for airbag assemblies and safety systems.
One of Mr. LaPorta's illustrious accomplishments came in 2015 when he led a complex cross-border acquisition transaction that was recognized by M&A Advisor as the Corporate/Strategic Acquisition of the Year. In addition, the M&A Atlas Awards recognized the same transaction as Cross Border Deal of the Year for European Middle Markets. The complex direct investment transaction for a private family-controlled business headquartered in the US included raising $62 million of financing to acquire a company with manufacturing operations in 3 continents. The successful completion of that direct investment transaction created one the world's largest machine tool manufacturing firms in the manufactured metal products lapping, polishing & grinding sectors.
Prior the start of his intermediary career in M&A, Mr. LaPorta owned and operated a precision contract manufacturer that focused on highly engineered components for the aerospace and medical device industries. He personally acquired two contract manufacturing firms and executed a hands-on strategy turning around the entire manufacturing process, supply chain and quality control. Prior to selling the manufacturing company in 2006, it was selected by C. R. Bard as global supplier of precision components for Bard's Salute Laproscopic Suturing Device.
Mr. LaPorta earned his MBA from Boston College and his BS from the U.S. Naval Academy. He served as a surface warfare officer in the U.S. Navy. He maintains his Series 79 and 63 FINRA securities licenses with Pickwick Capital Partners, a registered securities firm. He currently resides between Greenwich, Connecticut and Reston, Virginia.