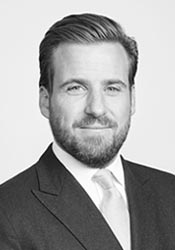 Harry Lawson Johnston
Principal & Direct Investment Executive
Harry Lawson Johnston is our U.K. based principal. He has been active with direct investment in real estate and operating businesses for over 15 years in the UK, Europe and the United States.
Mr. Lawson Johnston typically leads engagements for our client businesses that are involved in real estate development, construction, or building products. In addition, as a principal of FODIS, he assists with securing funding for Family Business Capital transactions.
He was also a co-founder of both Kinrise and Ormonde. Kinrise invests in commercial real estate across the UK and the US, backed by a small group of private families and institutions. Ormonde provides tailored investment solutions for institutions and families, including bespoke fiduciary management for pension funds.
Mr. Lawson Johnston also serves as a non-executive Director of Aeon Investments, specializing in alternative investments in the transportation, infrastructure, and real estate sectors. He is also on the Advisory Board of Memphis based Southern Sun Asset Management.
Previously, he was a founding Partner of LJ Partnership (now rebranded Alvarium Tiedemann), an investment group with over $50bn of assets, serving families and institutions from 8 offices across Europe, Asia and the Americas. While at LJ Partnership, he was responsible for group-wide strategy. Prior to setting up LJ, he served as Managing Director of Guggenheim Partners where he helped build out their international investment advisory practice in Europe and the Americas.
Mr. Lawson Johnston was educated in Oxford and received a BA from Durham University. He serves as a Trustee of CRT, the Church Revitalisation Trust, with bold ambitions to plant over 100 new churches across the U.K. He is also on the Advisory Board of Earth Cubs, providing environmental learning tools to 3-7 year olds.