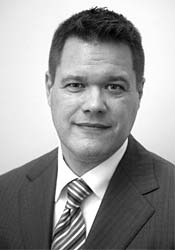 William Sutherland
Senior Managing Director
William Sutherland has 20+ years of extensive experience acquiring industry specific knowledge in diversified manufacturing and industrials, consumer products, energy, forestry, and the services sectors. He has held responsibility as both an originator and transaction lead of numerous private deals across Canada and the United States, as well as having several senior operations roles focused on specific project-based shareholder value creation and/or corporate turnaround.
Prior to joining FODIS, Mr. Sutherland acted as a Vice President of Business Development for the Kilmer Group, the family office of the Tanenbaum family with interests in major-league sports, real estate and infrastructure development, as well as several private holdings in diversified industries. He was specialized at sourcing proprietary opportunities, including negotiations, structuring and transaction execution. Mr. Sutherland led several initiatives including investment into the forestry sector, fast-casual restaurant chains, as well as the acquisition of Coca-Cola Canada Bottling Limited.
With early career experience in investment banking at RBC Capital Markets, Mr. Sutherland also spent several years at Kensington Capital Partners where he provided strategic directive to dozens of clients in the development of comprehensive business operating and development plans, financial restructuring, and M&A.
As a turn-around expert, Mr. Sutherland has been seconded to several operating businesses where he implement rapid changes in operational processes and corporate strategy in areas of specialty vehicle manufacturing, engineering services, solar cell manufacturing, forestry and food & beverage. In 2018 & 2019, Mr. Sutherland directly supported the CEO of Coca-Cola Canada Bottling Limited with responsibility for all technical due diligence as well as the implementation of post-acquisition initiatives in manufacturing efficiency, transportation logistics, warehousing and services, while building multiple third-party partnerships to grow revenue.
With a very profound passion for cars, Mr. Sutherland spent several years working with Toyota Tsusho Canada, Inc., where he played a key role in upgrading the Cambridge, Ontario plant to build the Lexus RX330. Leading numerous operational analysis efforts, Mr. Sutherland worked closely with Toyota's global supply and procurement group to improve dozens of businesses in the areas of cost, quality and delivery metrics.
In addition to his position with FODIS, Mr. Sutherland is an active family office community builder, working alongside other groups to develop a proprietary network of family offices across Canada and the United States, with over 100 members. He is also an advisor to ISBRG Corporation, a healthcare data analytics company with proprietary optics and AI-based technology focused on the rapid diagnostics sector where he is responsible for developing marketing partnership structures and sourcing key strategic commercial relationships. Mr. Sutherland is a graduate of Princeton University, where he focused his studies in the areas of Mechanical and Aerospace Engineering, holds an MBA from Queen's Business School, and is a Professional Engineer in the Province of Ontario.